Drip campaigns:
Marketo, Salesforce.com, Zoho, MindFire, ConstantContact…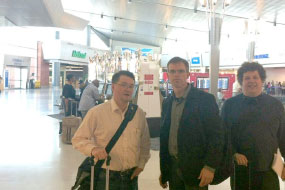 Targa Media's Boxxer Model at UTC.
MORE
Meet Targa's talented team.
MORE
Targa with Guy Kawasaki, Chief Evangelist.
MORE
Our efforts are focused on helping you reach a loyal audience, then promoting that audience from lead to loyal customer through such customer loyalty strategies as:
Web, print, or events-based marketing dialogues
Customer benchmark strategies to shorten the sales cycle and retain best clients
Referral marketing programs, promoting repeat business through genuine relationships
Small and medium businesses in a variety of industries are utilizing The Boxxer Model to profile and promote a loyal audience. At Targa Media we encourage you to market to your clients, not your customers. Since over 85% of your revenue is likely generated by less than 15% of your customer base, we can help you find and target prompt and permanent profits from your "value-driven" clients.