At Targa Media, we connect your products with your most valuable customers. To better explain, since over 85% of your revenue is typically generated by less than 15% of your customer base, we will help you find and target that smaller and more profitable group of "value-driven" clients. Meet our team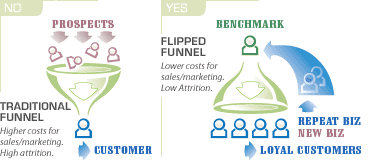 Flip your sales funnel. Take a close look at your database. Profiling your highest-value clients will do away with vague marketing speak and perpetuate memorable product messaging.
Relationship Marketing Dialogues
Targa Media is a relationship marketing firm that specializes in injecting emotional drivers into business messaging. Based on the belief that people buy experiences instead of products, Targa Media connects "people with people" through marketing literature, Web, email, media-rich demos, social media, mobile tools, and online events. These 1-to-1 marketing concepts become highly scalable through online channels, events and multifaceted campaigns.
We work with internal marketing and sales teams to help refine referral marketing, word-of-mouth strategies and loyalty campaigns. Companies uitilize Targa Media and its 30-member Talent Pool to build meaningful dialogues and drive repeat business. Targa Media encourages businesses to embrace the technologies that give consumers a face-to-face experience.
Jason Steed is the Founder and CEO of Targa Media. With 18 years of corporate branding and client loyalty campaigns, Jason has designed strategies and materials for Logitech, Intel, Novell, 3Com, Tandberg Data, Yale, ARUP Laboratories, SanDisk, Coldwell Banker, Allegiance and others. Recognitions include 2011 Chamber Champion, AIGA 100 and the Addy Awards.
Jason began with a Degree in Graphic Design from BYU, and has since embraced the motto, "Learn it, do it, teach it," as an Online Marketing and E-commerce instructor at the University of Utah. He is actively involved in the community by serving on the boards of Leadership Utah, the Utah Advertising Federation, and the Davis Applied Technology College.
We have pioneered a revolutionary, standardized, and quantifiable way to identify your best/most profitable clients. When creating a marketing campaign, or aiming for growth, we feel that your money is wasted unless it's targeted.
Learn more about The Boxxer–
Client Builder tools and strategies.
Our areas of expertise blend the realm of graphic design with strategic planning to help with: